Where you will fly from
HeliAMS operates its tours from Amsterdam Heliport, which is conveniently located in Amsterdam Westpoort, only 10 km from the city centre.
Amsterdam Heliport
Hornweg 24
1045 AR Amsterdam
The Netherlands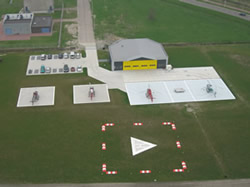 Car
Heliport Amsterdam is good reachable by car. From the city centre it is only a 10 km drive and will take you normally less than half an hour. At the Heliport are sufficient spots to park your car.
Public Transport
The nearest railway station is Amsterdam Sloterdijk and is 5 kilometers away. From this station you will have to take a taxi to Amsterdam Heliport.
Hotel Limousine Service
The HeliAMS Hotel Limousine Service takes you from your hotel to Amsterdam Heliport in style and makes sure you will be at the Heliport on time. After the tour the luxurious stretch limousine will bring you back to your hotel. To and from the Heliport we will serve you champagne. After selecting your flight date and time you can add the HOTEL CHAUFFEUR SERVICE to your cart.
What to bring with you
Please look at your confirmation email for a list of what to bring with you on the day of your flight. In particular, it's important you bring the identity documents you used to check in for your flight. We also recommend that you wear comfortable clothing and bring as little as possible in the way of extra items. For the flight, you will only be able to take on-board a camera or mobile phone (in flight safe mode) for taking photographs. All other personal possessions must be left in the lockers at our reception. Please note that although we will do our utmost to keep your possessions secure, all the personal effects you take with you on a flight and leave at Amsterdam Heliport remain your responsibility.